Image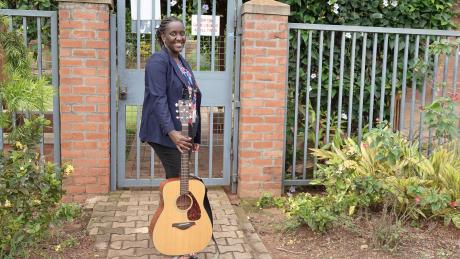 Damalie Hirwa
The uniqueness about working with Mission Aviation Fellowship, MAF, is that it ceases to be an office and becomes a home away from home. This is a confession you will hear from nearly all the long serving staff of the organisation, national and international!
We caught up with Evelyn Kabahuma, an MAF staff member on the Uganda programme.
At the age of nineteen Evelyn Kabahuma fell into the care of a missionary couple that worked with MAF Uganda at the time. The teenager had dropped out of school because her parents could not afford an education for her and her two siblings.
With poverty came a broken relationship between her parents and the family fell apart.
When her father left, Evelyn's mother took over the responsibility of three children even though she didn't have a job herself.
The only place to run to when all failed was church. Evelyn's mum took her children to church and God became their refuge. "For you are my hiding place; you protect me from trouble. You surround me with songs of victory" ~ Psalm 32:7
Eventually, the missionary couple took her in, together with her siblings and mother, to provide food and shelter while they supported with household chores.
It was at church that Evelyn first got her connection to MAF, through the couple serving on the Uganda programme.
MAF opened a guest house, and there, they employed her sister as a housekeeper. The guest house soon turned into a home for the entire family.
While Evelyn had been asked to support MAF for short term cover for a sick staff member, another position soon became vacant and that created room for her permanent employment.
What beats her understanding is how the organisation dared to employ a high school drop out with barely a certificate to her name.
With the help of MAF, Evelyn was able to complete high school, and that opened doors for career growth through the ranks.
It is not every day that you will find an organisation that will support someone through school to develop their career and establish them. The gesture from Mission Aviation Fellowship to spot talent and develop it is commendable.
Besides her human resource duties, Evelyn leads praise and worship on prayer days and the daily morning devotions before work kicks off. Her inspiration in this is her desire to use her gifts to serve the body of Christ.
In her 10th year of service with MAF, Evelyn is developing her skills in human resources management and administration as she continues to use her beautiful voice to sing songs of worship to the Lord.
Image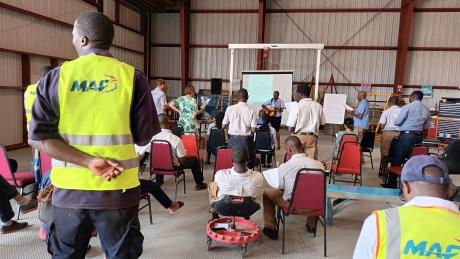 Damalie Hirwa