Partnerships
It is MAF's goal to reach out to the many that have not been reached by the good news of salvation through Jesus Christ. We would like to challenge you to pro-actively think how to reach out to these people. If transport is one of the practical problems that needs to be overcome, please contact us to discuss how we can help each other. We are determined that the remoteness of an area should not be the reason that the un-reached are not evangelised.
MAF recognises that flying by its nature is an expensive means of transportation. For this reason, all MAF flights are subsidised for churches, mission groups and other NGOs. If your organisation could benefit from the service MAF offers, then please get in touch to start a conversation with us about how we can help, and complete a Partnership Agreement to enable us to continue working together. Only passengers from registered organisations are accepted on our flights.
We want to show God's love to people in spiritual and physical need, and to make our service available to you in order to make your ministry more effective. Please contact us so that together, with God's help, we can make that vision happen.
Partnership Agreement
If you are interested in working in partnership with MAF and want to find out more about it then please contact us to discuss the possibilities.
Our Partners
We are proud to work with many fantastic organisations within Uganda, such as the following two groups who are doing amazing work to reach people with the word of God.
Far Reaching Ministries is committed to bringing long-term discipleship and systematic teaching of God's Word to individuals in Africa, China, Russia and other parts of the world where such teaching is either unavailable or inaccessible.
Image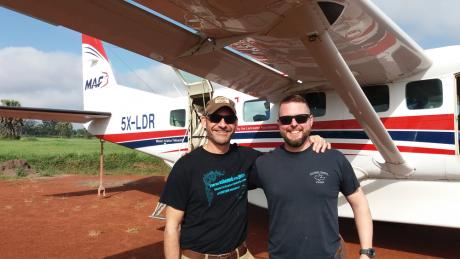 Photo: Andrew Parker
Through the discipleship of indigenous leaders, teaching community Bible Studies, planting churches and Bible Colleges, we hope to see native Christians receive a firm Scriptural foundation, upon which they can begin to build the ministry that God is calling them to.
Image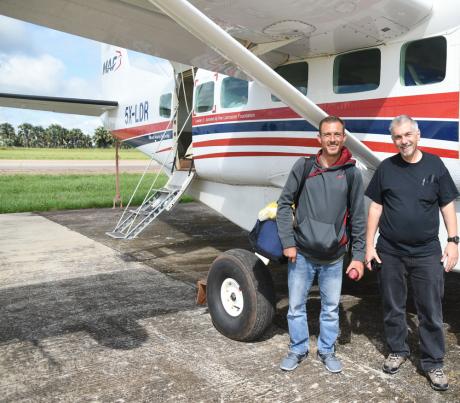 Photo: Jill Vine
Far Reaching Ministries has been operating in the areas of northern Uganda and southern Sudan since 1999. In that time eight of our staff members have been killed by the LRA and numerous others have barely survived attacks on vehicle convoys. We have ministered to children and adults who have been victimized by the LRA and have experienced firsthand the anger and the fear that are a part of not knowing when the next attack will come.
Jesus Film Ministries has a passion for the people of Uganda and for them to hear the Good News of Jesus Christ.
Image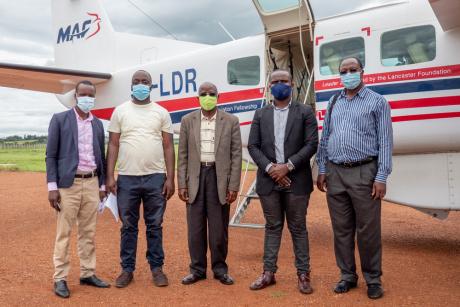 Photo: Dave Forney
There is a great hunger for the Gospel throughout Uganda and neighbouring countries. We want to see the urban areas, the villages, and the islands on Lake Victoria reached with the Gospel. There is also a great need for the local church to be built up, for denominational differences to be bridged and to encourage each other in order for God's kingdom to grow and mature. It also wants to help the Church in the Sudan and encourage their efforts to spread the gospel.
Image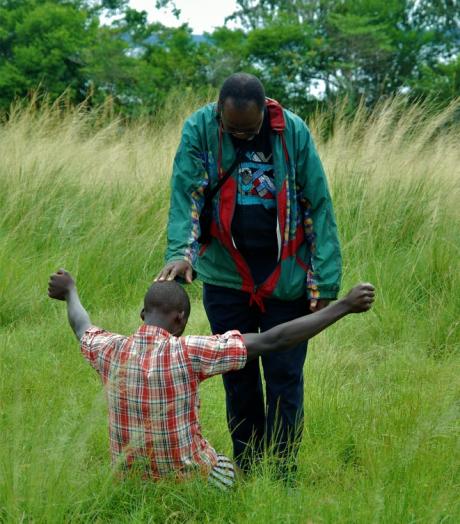 Photo: Jill Vine
Our outreach is done through gospel video ministry to communities, schools, prisons and church groups. We also reach out to the unreached through open-air preaching in the communities and team up with University and College students on Short Term Evangelistic Missions. We attend to the needy through distribution of food, clothes, and toys (for children) and other items. Medical and dental clinics bring the much needed services to those in the villages. We distribute bibles and other gospel literature to the rural church as The Lord provides. We organize and host conferences and seminars to help with teaching and discipleship of the rural church.