Emergency call: +256 (0)772 777 208
When timing is critical and travelling by road is not an option, MAF is able to provide transport by air from isolated areas of Uganda and South Sudan. Bringing the sick or injured to a major hospital offers patients the best possible medical attention and means to recover.
We are able to take patients who are able to sit and those requiring a stretcher. When the situation requires the patient to lay down we will provide a specially adapted stretcher to fit to our aircraft floor.
Image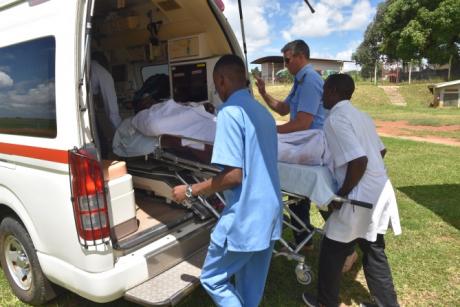 Photo: Jill Vine
For medical evacuations (medevacs) you are required to provide medical personnel to travel with the sick or injured person where possible. If this is not possible, then another responsible person who can travel in the aircraft with the passenger and assist if necessary is required.
Arranging an ambulance is the responsibility of the person requesting the medevac; this is the easiest way to ensure the ambulance crew get as much accurate information as possible in advance. If you are unable to arrange an ambulance we will do our best to assist you with this, though you will be responsible for any cost incurred.