Uganda, South Sudan and DR Congo
We fly to many airstrips across Uganda, from towns with tarmac runways to remote villages with short dirt strips.
We also fly regularly into South Sudan and the Democratic Republic of Congo.
Image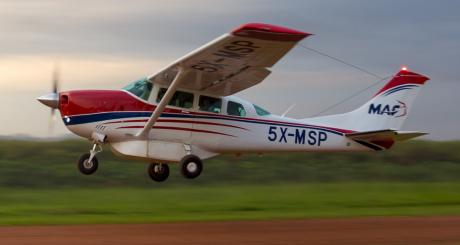 Photo: Mark & Kelly Hewes
Please click on the button to see the destinations currently served by MAF in Uganda and the surrounding countries. Locations in red are the airstrips regularly served with our shuttle flights, whereas those in blue show airstrips typically serviced by our charter flights.
If there is a destination you wish to reach which is not on our map please contact us, as we may be able to assist or advise on getting you as close as possible.
* Please note that we cannot guarantee availability at all airstrips on this map. Areas may be inaccessible due to problems with the airstrips, or instability in the surrounding area. Contact us to confirm whether we are able to fly to your chosen destination.