Image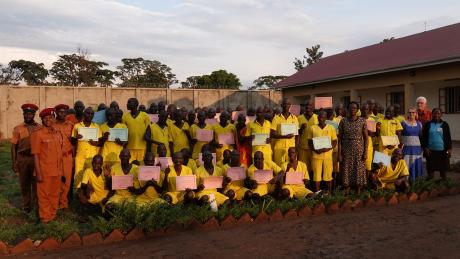 Photo Credit: Damalie Hirwa
MAF flights have been enabling Hands Across Nations to teach prison inmates to read, not only greatly improving their prospects but giving them access to the Word of God as well.
Over a hundred prisoners at Lira main prison can now read, after they graduated with certificates in lango and English as a first language.
This is a huge milestone in the lives of a people who look like outcasts in their community.
The directors of Hands Across Nations, Keith and Carolyn Jones, a non-government organisation have for six years been investing time and money to ensure that the lives of these inmates turn around for good.
They are grateful for MAF flights which enable them to fly resourcing books, and personnel to Lira, which is 7 hours travel away from the capital Kampala.
"I have a talk with every new MAF pilot and tell them how helpful they are. We have never driven from here to Kampala and back without seeing a major accident. The pilots are amazing, they pray before take-off. MAF flights are like a glass of fresh clean water in a desert," said Keith Jones.
Carolyn Jones came to Uganda in 2001 for a medical camp, during rebel leader Joseph Kony's insurgence. She has since then devoted her energy to supporting inmates, and local people in whichever way possible. Keith Jones joined her in 2012, and the two started the prison ministry.
"I want to see as many of you as possible become teachers. When I saw a few of you read this morning, I wanted to cry. That was a display!" said Keith jones in his address to the inmates after the graduation.
Image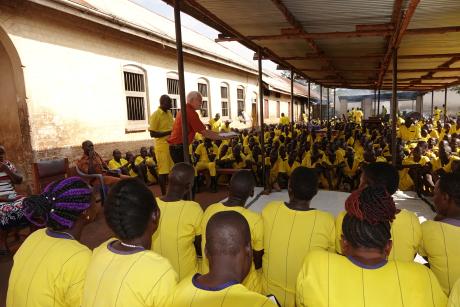 Photo Credit: Damalie Hirwa
"I want you to make Keith and I, and the Lord proud," Carolyn told the inmates.
The regional prisons commander Komakech Godfrey who was the chief guest at the graduation was allowed to randomly pick an inmate to read a Bible passage of his choice, from both lango and English as a first language, from the male and female prisoners. None of those he picked disappointed.
Image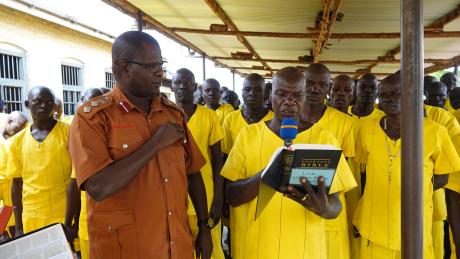 Photo Credit: Damalie Hirwa
"As we read the Bible, some of you, God is going to call you to serve his kingdom and your lives are going to change. God brought you here for a purpose. I want to pray for you, that the Spirit of God will convict you that when you go out there, you will become preachers of the word of God," Komakech encouraged the inmates.
The project which began at Lira main prison has over the past years spread to twelve other prisons.
"When covid started, there were over 3,000 villagers that we know of who were being taught to learn to read the Bible by former prisoners who had been released and had returned home," Keith says.
Image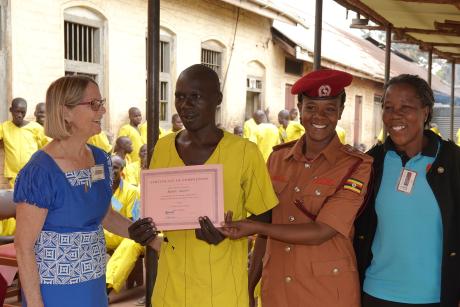 Photo Credit: Damalie Hirwa
The certificate in English as a first language has helped a number of inmates to be enrolled into primary school, while others have been admitted for technical courses.
The transformation is so visible that every year the number of inmates enrolling for the course goes up. The course also works as therapy for inmates. In addition, several of them have cultivated a relation with the Lord, because the course manuals are purposefully designed from bible verses.
A total number of 78 men completed the course this year, while from the women's wing, 44 graduated.
Lira main prison only takes prisoners of capital offence, with five years and above sentence.