Image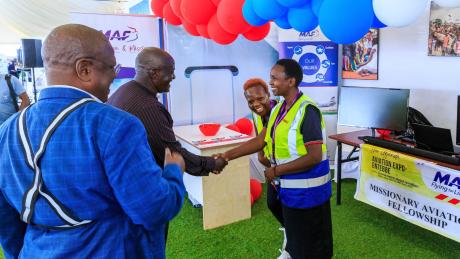 Photo Credit: UPPA
The Prime Minister of Uganda honourable Robinah Nabbanja has recognised Mission Aviation Fellowship for supporting and actively participating in the Aviation Expo 2023.
MAF offered free flights to first time passengers who expressed interest in flying at the first ever aviation expo organised under the theme "Come and learn about aviation."
Amid their tight schedule, MAF pilots, Wim Hobo, Martin Zimmermann and Hansjoerg Schlatter carried out 11 scenic flights around Kampala's Entebbe Airport and the neighbouring areas.
Kweyamba Isaac a dental surgeon with Uganda's national referral hospital Mulago was one of the first people that pilot Wim flew on the opening day. His hopes of flying in a plane were almost quashed by bad weather when take-off was cancelled the first time. But they came alive again about an hour later.
"It has been a good experience. I really thank the people that have organised this expo, especially the organisation that I have flown with, MAF. They are very good. I've learnt that even when people are going to the skies, they don't forget God. This was seen when the pilot made a prayer before take-off," Mr Kweyamba said.
The president of the Uganda Professional Pilots' Association Captain Aziz Sentamu, who was among the main organisers, thanked MAF for providing their aircraft for this cause.
"MAF was the first company to give aircraft to fly members of the general public which gives it an outstanding participation in not just the expo but the growth of aviation as well. The participation of MAF is one that will always be remembered by the expo committee as well as the general public," Captain Sentamu noted.
Several other passengers travelled hundreds of kilometres from upcountry places to take their first flight.
Some of the passengers requested a photo moment with the MAF pilots upon landing.
The three-day expo also carried the minister for works and transport, General Katumba Wamala. General Wamala revealed that the ministry is considering having the expo repeated every year in order to expose more Ugandans to the aviation industry.
Over two thousand people attended the expo, among them school children, families, and organisations.
In addition to flying, the Uganda professional pilots' association carried out career sessions for school children, explaining the different professions that aviation can offer other than flying the plane.
This is what other passengers had to say about this flying experience.
"The experience of seeing the world so small as we flew reminds us of how small everything is before God and reminds us to serve God the more," Pastor Allen Babirye Matovu from Tower of Hope Evangelical Church, Seguku.
"Thank you so much for your timely support. At least, at last a man from Butaleja village in Butesa could experience a flight with his wife because of your efforts. God almighty richly bless you," Hasahya Joseph.
Image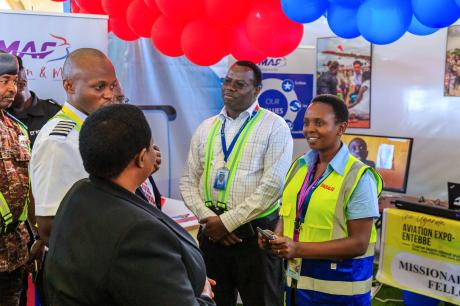 Photo Credit; UPPA
Uganda's Prime Minister, Robinah Nabbanja visits MAF stall
Image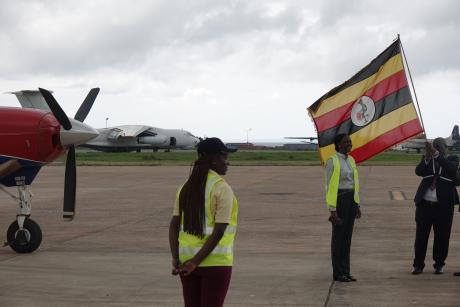 Photo Credit: Damalie Hirwa
UCAA Director General Fred Bamwesigye flags off a MAF plane