Image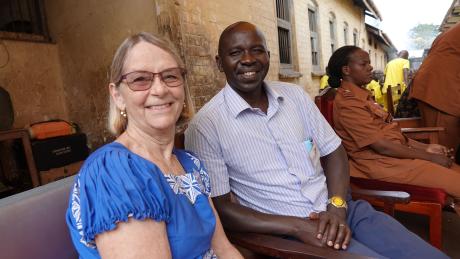 Photo Credit: Damalie Hirwa
On his second day in jail, Okweny Lamech George was introduced to Keith and Carolyn Jones, the co-directors of a non-government organisation, Hands Across Nations, who were at Lira main Prison to start an English as a second language literacy program for inmates at the prison located in northern Uganda.
Lira is 340km away from Kampala the capital, and it takes over eight hours to drive to the district by road. While the missionary couple has lived in Uganda for over 11 years, they only learnt that they were eligible to fly with MAF about five years ago.
"A MAF flight is a life saver especially as we are growing old. It's 27 to 30 hours flight from the US, and about 8 hours by road to this place (Lira). Its only an hour and we are here if we fly MAF," Keith Jones, a co-director at Hands Across Nations, an NGO that started the prisons literacy program says.
George had been remanded to prison on charges of aggravated defilement of his student, in a school he had left six months earlier. The parents of the then pregnant girl and some teachers had logged the complaints against George.
"I served 180 days in jail and was released. But while I walked out to find my freedom, I was re-arrested," George says.
Since their meeting when George had spent only two days in jail, they had interested him in teaching other inmates to read in English because of his education background.
Teaching inmates to read was helpful to them as it was for George. He spent much of his time reading scriptures as the teaching material were crafted from Bible verses.
Image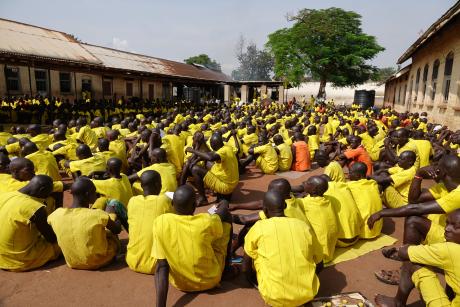 Photo Credit: Damalie Hirwa
George became the first teacher for English as a second language at Lira main prison. He was later transferred to another prison where he continued to teach other inmates how to read. Because of the work George and Hands Across Nations are doing, thousands of inmates and former inmates can read the Bible. Others are able to do business because of their ability to read and communicate in a country that has multiple languages.
After four years of wrongful incarceration, George was set free. The girl that had accused George of defilement later confessed that she accused him falsely as advised by her parents and some teachers.
We asked George what went through his mind during his time of wrongful arrest.
"I don't regret, I totally don't. people offered me money to help bribe the officers and get released but I refused. I instead asked them to take that money to my family because I wanted justice to take its course and the truth to come out. Being in jail taught me hard work. It's not bad to be here," George says
"When the missionary couple, the Jones, heard the story about the girl's confession, they looked for her family and advised them to tell the authorities the truth."
Image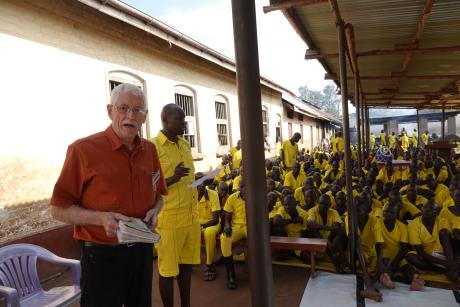 Photo Credit: Damalie Hirwa
MAF is proud to partner with people who are changing the lives of so many others in the remotest parts of the world.
George was released from jail on February 1st, 2019, having been held since 2015. Had it not been for the mercy of God, and the support from the Jones, George would have been jailed for 60 years for the crime he never committed.