Image
Apollo Makara
A community in north-eastern Uganda is starting to be transformed through the church that is growing strong, thanks to educators flown by MAF to the remote region
NET Foundation, a Christian organisation, started offering training to pastors in Amudat in order to help them develop their faith. Most pastors in Africa are zealous to serve the Lord but do not have access to basic training or mentorship.
"These leaders do not have basic knowledge of the word of God. When we introduce the first course many of them tell us that they need to be born again the second time because the gospel they hear is different from what they'd heard before," said Cate Nattabi the coordinator for Net Foundation in Uganda.
Even though they have been holding leadership positions, some have been involved in female genital mutilation (FGM), polygamy, domestic violence and cattle rustling but attitudes are changing as pastors are equipped with better teaching.
"The church is helping to curb FGM, if anyone is doing it now, they do it in hiding, unlike before," says pastor Michael Kiriam. Pastor Kiriam helps to coordinate Christian leaders for training with NET Foundation in Amudat.
"Since NET Foundation started training church leaders here, there is transformation in the community. Pastors are now understanding that the church is not their personal property. At one of our meetings, a pastor testified that before he thought the church belonged to him," he said.
As a result of the training, families are establishing prayer altars and women are now allowed to take up leadership positions.
One of the biggest achievements highlighted by pastor Kiriam is for men to be able to come to church. Previously, church was perceived as a place for women and children.
NET Foundation has been offering theological training for Christian leaders in Amudat and other locations in Uganda for five years. With material translated into the local languages, and the team of trainers going down to the villages, the church leaders are discipled and helped to understand their faith.
A total of 147 Ugandan Christian leaders have graduated from NET Foundation's programme in various locations, while at the same time some of these graduates are being trained to become trainers.
This training is very important for the pastors as some of them have not even gone to school. Formal theological education would be both expensive, inaccessible since it is officially done in English, and additionally, too far from Amudat.
MAF is partnering with NET Foundation to provide safe and timely transport to the trainers in Amudat. The district stands with a poor road network, lacks proper health facilities and other major resources that other more developed parts of the country get to enjoy.
"MAF helps us save time from a whole day's road travel. Our partners are able to come up here and interact with the pastors in training. This means a lot to NET Foundation because our trainings are intense, and we need all the time we can get to focus on implementation," said Apollo Makara, NET Foundation Netherlands' coordinator for Uganda.
Image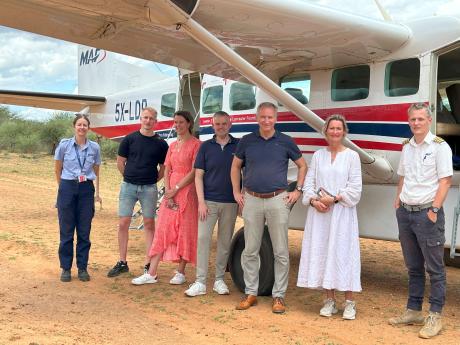 Apollo Makara