Image
Photo Credit: Damalie Hirwa
MAF flies Jesus Film Ministries to bring hope to a fishing community that lost 25 members in a boat accident in August this year
For over 20 years Mission Aviation Fellowship has flown Jesus Film Ministries to Bukasa airstrip, from where they connect to different islands on Lake Victoria.
It was mixed feelings for Christian believers from a number of islands on Lake Victoria on the night of 16 October 2023, as Jesus Film Ministries met them for the first time since a boat capsized on August 2, leaving 25 out of the 35 on board dead.
"We do outreaches on the islands and this community in particular, when I heard about the accident, I felt we needed to encourage them," said Sam Tsapwe, Director of Jesus Film Ministries.
"Whenever we go away, our hearts remain here with you. We are always challenged when many of you cross from other islands to come and meet us. This brings tears to my eyes. You show us a lot of love, and when we return home, we feel encouraged by your love for the Lord."
There are over two hundred islands on Lake Victoria, and the capsized boat was transporting members from the community of Lwanabatya fishing village, where Jesus Film Ministries has ministered for many years.
Image
Photo Credit: Damalie Hirwa
Bukasa airstrip, which is in fact privately owned, is the only island with an airstrip on all of Lake Victoria. These conditions make transport to the islands extremely difficult.
"MAF are a lifeline for Jesus Film Ministries because there are places that would be very difficult to go without a MAF flight. Coming here to the island by these wooden boats is very slow, very hard and also very unsafe. We have been rained on, and one time we hit a rock, yet we did not even have life jackets. When you want safe transport, it is not affordable because you then have to hire a private boat," Sam said.
Jesus Film Ministries was visiting Lwanabatya community to comfort and encourage them, but also to give thanks for the 10 members that survived the tragic incident.
The most common transport means on Lake Victoria are small boats rowed manually. And due to scarcity, they are often overloaded.
Four members of the Christian community are among the ten that miraculously survived on a boat which was the only available transport means. During the overnight thanksgiving event, survivors told stories of how they were snatched out of the jaws of death. The overloaded boat, coupled with bad weather they said, was the cause of the accident.
"We set off from the island at 11pm, and in the middle of the journey, strong winds came with rain. The accident happened at 5am and people were screaming for help. But a voice told me, 'Lule, you're not going to die.' After the boat capsized, we spent close to two hours without help. But at around 6:40am, ten of us were rescued. Unfortunately, many of our friends had already drowned," Joseph Lule, Pastor of Omega Healing Centre Church, Lwanabatya, said.
Image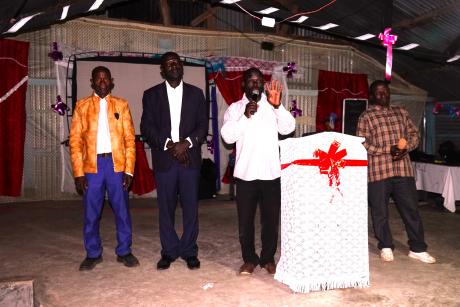 Photo Credit: Damalie Hirwa
Four of the ten people that survived the boat accident. With a microphone is Pastor Joseph Lule
Pastor Lule, who does not know how to swim, attributes his escape to God who he says had mercy on him.
Pastor Idris Walakira, coordinator of Christian churches across the many islands urged the Uganda police to enforce regulations.
"We thank God who miraculously saved four of our pastors. We are here today to celebrate with them, but to also show the community that they are not alone."
It takes only twenty minutes to fly from MAF Uganda's base at Kajjansi airstrip to Bukasa island, yet it would take over eight hours to connect to the same place by boat.
MAF and its partners have a strong history with these fishing communities, especially with the church there.
Image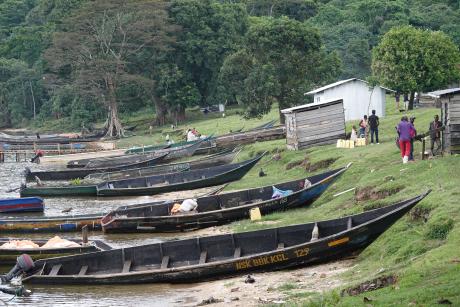 Photo Credit: Damalie Hirwa
MAF has been flying to Bukasa island for over 20yrs