Image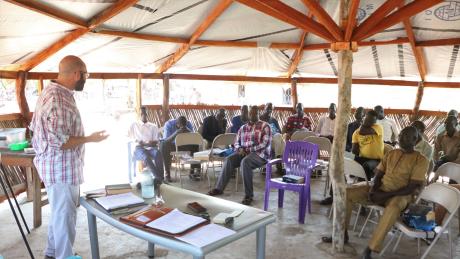 Photo: Every Village
MAF Uganda has partnered with Every Village, working in South Sudan, over many years. Here we find out about their vital work, and how MAF supports it 
Every Village has had to show brave tenacity over the many years MAF Uganda have been partnering with them. They have dealt with the disappointment of war which led to their established programs in South Sudan being looted and the team being chased further to the border. More recently, Covid has interrupted some movement, but Every Village have soldiered on and never given up their pursuit of spreading the gospel. Every Village continues to successfully operate community development programmes in the region of Mvolo, Tonj, and Aweil East.
Halfway through 2022 and the activities that Every Village have implemented so far are exciting and ground-breaking.
Radio Programmes
Every Village continue operating three radio stations and began the year with 15 staff members. Brad Beless, Operations Director of Every Village, passed on a glowing report, 'We have distributed 10,000 solar-powered radios so far this year, with plans to distribute another 20,000 by the end of the year. These radios are fixed-tuned to our station and continue to significantly broaden the accessibility and popularity of our station.'
Every Village also hosted a pastor conference at their station in Tonj, with plans for hosting similar conferences in Aweil and Mvolo by the end of the year. These conferences serve to train and strengthen the network of pastors and church body as a whole. Additionally, the radio station hosts community events, such as peace conferences and youth sporting events, that promote peace and reconciliation throughout the community. Through Every Village's operation, the local community can gain access to local and national content and hear church songs and preaching.
Image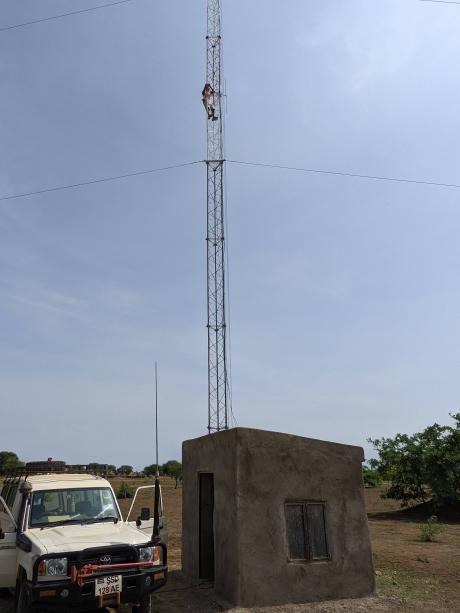 Photo: Every Village
Water Programme
Every Village continues to operate water programmes in three locations. Their initiative encourages various stakeholders to come together to establish a healthy water sector. Every Village  hope to see more communities taking physical and financial responsibility of their water wells so they are maintained with excellence. In addition to repairs, the Every Village field team continue to form and train water committees that are tasked with overseeing the well-being of the water wells. Every Village partner with these committees, as well as local government officials, to implement sustainability projects.
We are very grateful for MAF for these trips. They have allowed us to work in and out of Uganda for the first time in many years.
People Programme
In 2021, Every Village hired their first employee as a part of the People Program. They now have four staff, who serve in pastoral roles in the community. These employees travel to the communities in connection with their water and radio work to share about the Bible and encourage communities in their faith. Every Village has also begun to show the Jesus Film in Tonj, having shown the film 37 times to 9,727 people so far in 2022. The Jesus Film is a great tool for evangelism, and Every Village hope to implement the Jesus Film in Aweil and Mvolo shortly.
Brad Beless spoke of two MAF Uganda flights that have happened recently with Every Village between May and June. 'My family flew from Kajjansi to Tonj with Pilot Stefan Hug. I was able to spend three weeks with my family in Tonj. In June, Pilot Gregory Vine flew Country Director, Andrew Brown and a team from Tonj to Mvolo, and then back to Kajjansi. Greg stayed overnight with the team in Mvolo, allowing the team longer on the ground. That flight brought most of our South Sudanese managers, including Andrew, to Kampala for our annual team retreat.' Brad wanted to pass on Every Village's thanks, 'We are very grateful for MAF for these trips. They have allowed us to work in and out of Uganda for the first time in many years.'
Please continue praying for the work of Every Village. MAF has valued partnering with them for decades because of their Christ-centred ethos which is practically and spiritually elevating men and women in South Sudan.
Story Jill Vine