Image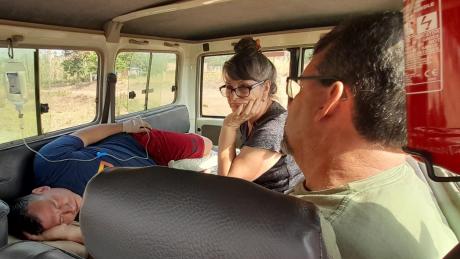 Photo: Caleb Mitchell
MAF medevacs American missionary suffering heart attack
MAF Uganda's Operations phone rang and a strained voice at the other end asked, 'We have a man who is having heart problems who needs to be flown urgently to Kampala.' It was already evening so Pilot Andrew Parker could manoeuvre the flight schedule as quickly as possible to collect Randy Southwell early the next morning.  
Randy had flown in for a short-term visit from the USA (serving with ABWE Associates of Baptists for World Evangelism) and had driven up to Moyo for an outreach called 'Reaching Africa's Unreached' teaching 44 pastors for a week. 'I taught all day Monday and Tuesday but at around 6:15pm I started to feel unwell with pains in my chest and nausea. I started vomiting and then collapsed on the floor. Someone found me about 15 minutes later. My colleague, Carol, was able to check my blood pressure and after seeing there was a problem called an English doctor from Moyo who drove over to assess me. The doctor said I needed to be evacuated as soon as possible. Carol then contacted MAF who agreed to come the next morning.'
A swift rescue
After Randy survived a night of chest pains, the team left for Moyo at 9:30am and he was swiftly flown from Moyo at 10am to Kajjansi arriving at 11am. 'By God's grace the chest pains went away while I was on the plane. My stats kept dropping to 71 so my teammate kept shaking me awake each time it would drop.' 
Pilot Andrew Parker flew back at low level (5,500 feet) to make sure oxygen was not an issue for Randy who was connected to a drip inflight. 
On arrival in Kajjansi an ambulance was waiting to take Randy to an international hospital. After being assessed he was transferred to another international hospital called Nakasero where the cardiologist was located.   Randy explained, 'I had an ECG and then had a coronary angiogram because my coronary was completely blocked.  I was booked in for surgery at 6pm, around 24 hours after my initial heart pains.   The imagery machine needed for the surgery had broken down, but again another sign of God's grace, just before they were going to transfer me to a different hospital the machine suddenly started working.   The successful angioplasty was completed on both of my coronary arteries 4 hours later.   I'm so appreciative of MAF.  They were able to get me to where I needed to be for the treatment I needed when there was no other way.  I've lived all over the world as a missionary and so I had many praying for me all over the world and I know that MAF was a part of those answered prayers.'
Image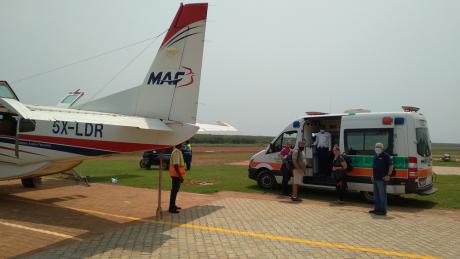 Photo: Andrew Parker
Randy's colleague who made the initial emergency call said, 'We are so thankful for MAF. We don't believe Randy would have survived without this medevac.'
Randy was flown back to the USA just after his surgery. Next time Randy flies with MAF he hopes it won't be an emergency situation, but he's grateful that he will have the opportunity to fly with us again in the future.
Words by Jill Vine