Image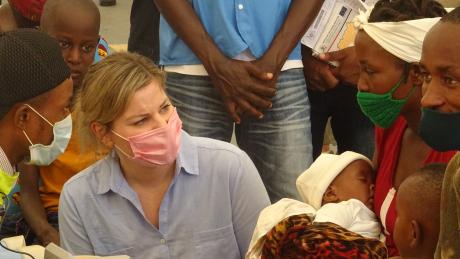 On Thursday 3 February a delegation from the Dutch government flew with MAF Uganda to Mbrara and then by road to Nakivale refugee settlement. 
The newly appointed Dutch minister of Foreign Trade and Development, Liesje Schreinemacher, came to Uganda for a two-day visit for one of her first overseas engagements. She had met with the Prime Minister Rt. Hon. Robinah Nabbanja of Uganda the day before and had several other engagements with beneficiaries from a youth employment project and also the Dutch business community in Uganda.
After a smooth one-hour flight, the delegation landed safely in Mbarara where they transferred into cars for another one-hour drive to the settlement. Nakivale settlement currently hosts 150,000 refugees, over 77,000 of which are from DR Congo, Burundi, Rwanda, South Sudan, Eritrea and Somalia. During the day, there were interactions with several projects and programmes run by UNHCR, UNICEF, ILO, TPO, UNLEASHED and AVSI under the Prospects Partnership.
The Netherlands are actively running and funding the PROSPECTS Partnership in eight countries worldwide, including Uganda (Nakivale and Rhino Camp in West Nile). The programme harnesses the help of five agencies: the International Finance Cooperation (IFC), the International Labour Organization (ILO), the United Nations Children's Fund (UNICEF), the United Nations High Commission for Refugees (UNHCR) and the World Bank. The aim is to support the Government of Uganda in the reception of refugees, and to help the refugees to become self-reliant. This is done by devising and implementing collaborative and innovative ideas for inclusive job creation, education and protection which have been characterised because of forced displacement.
Image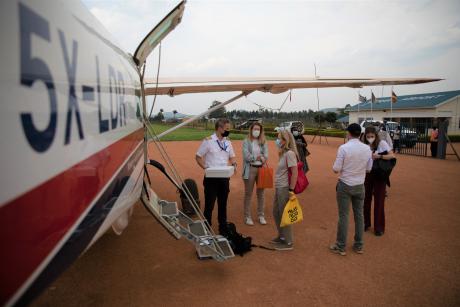 Photo: Luuk Toorman
Agencies that help
The minister first visited UNHCR where new arrivals into Uganda are registered. Refugees are provided with identity cards that enable them to integrate and work in Uganda, giving them a sense of belonging and purpose. They are then directed to all of the agencies that are able to offer the right support and interventions for their particular needs.
At TPO (Transcultural Psychosocial Organization) the minister engaged with young adults who had gruelling experiences from a very young age which forced them to abandon their homes and flee to Nakivale. Many of these young people haven't parents left alive to take care of them. Intense trauma has left many refugees in a downward spiral mentally. After receiving mental health and pyschosocial support (MHPSS) from TPO they are referred to AVSI (Association of Volunteers Service International) to receive skills and training. Having learned to face and cope with their past, these programmes enable them to become self-sufficient. The minister thanked the youth for being so brave in sharing their stories, 'Hearing your stories is much more valuable than any briefing notes that I could have read. Thank you so much!'

During the visit at UNLEASHED, several youths showcased how they developed products by identifying problems and then came up with positive and innovative solutions. The minister was introduced to a mini company that handcrafted handbags and doormats made from recycled plastics. The Prospects Program empowers young people to identify challenges in their communities, creating entrepreneurial solutions to address them.
Community Pride
At the end of her visit, Minister Schreinemacher remarked, 'I'm impressed with the work that the Ugandan government and the partners are doing when it comes to refugees. Many have come with traumas, and it's good to see the mental support enabling them to cope with that…What I've seen mostly, is people that are really proud of their community. They are building a community with different nationalities which is really impressive to see. I want to thank you for the work you are doing'
The flight back to the MAF base in Kajjansi went well after a full day of visiting all of the above impactful projects. On social media the minister shared 'Thanks #MissionAviationFellowship that you were able to arrange an aircraft.'
Nakivale settlement was founded back in 1958 and since its creation has been a safe haven for many thousands of refugees from many different countries in the region. Its relevancy, alongside many other similar settlements in northern Uganda, continues as the nation keep their doors open for more displaced people from neighbouring countries. Where there is war and displacement, MAF is needed to bring partners like the Dutch Embassy more easily to the projects they've created to help re-establish refugees.
Story by Jill Vine