Image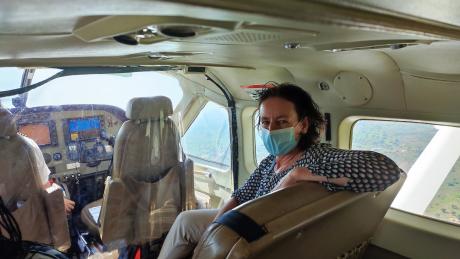 Photo: Jill Vine
MAF supports agricultural development work in northern Uganda, saving workers hours on the road
A frequent flyer of MAF, Karina Noordam, has been working for MWH Trust (better known as 'the HUB') for eight years. MWH celebrated their 10th anniversary in March. A Dutch couple, Hans and Jeannette Joosse, founded the organisation, being moved by the injustice that still exists in the world and after a successful life in business, they committed themselves and their resources to fight injustice and poverty. 
Since the Joosses began their agricultural scheme in the North of Uganda supporting farmers, they have increased to five shops in a 40km radius from the regional office in Pajule. These shops sell agricultural inputs to over 5,000 registered farmers, for livestock, crops and advice. Two local specialists are posted at every shop, selling inputs, offering training and advice for the farmers. MWH buy goods from Kampala to bring them closer to the farmers in the North.
Karina went into more detail, 'We have changed our strategy over time and offer support more through our shops compared to visiting the premises of the farmers. MWH has expanded its reach out towards Western Nile. It's been wonderful to see the increase and variety and quantity of vegetables being grown, over the years. We're also starting to focus more on organic pesticides.' 
Flying with MAF
Since 2014, Karina has been flying with MAF at least once a month in the first years and more recently post COVID, once every two months due to Karina's job being more based in Kampala as shops are increasing, needing more supplies from the city. 'I love MAF and know many within the organisation. I like the flexibility that MAF offer if you need to book last minute or change flights. I've seen how much MAF has become stronger in their way of processing customers. The communication with passengers is very quick and efficient. Driving would take me eight hours door to door, compared with 1 hour, 10 minutes direct from Pader to Kajjansi - though you need to be lucky when you fly direct. On average there is one or two stopovers, on the shuttle, making it approximately a 2.5 hour flight.'
Image
Photo: MWH
Success Story
Karina shared a personal testimony from a farmer called Ojok John Calvin Amor from the Pader trading centre:
'I heard about The Hub in 2015 as an agricultural input dealer, but only got engaged with them in 2019. Initially I was producing rice, maize, soybean, and cassava alongside trees on a small scale keeping strictly to the rainy seasons. The Hub training on vegetable production that I attended made me more interested in vegetable production. I started to pay more attention to the location and type of soil on my land. I was also motivated by having free extension services, provided by the HUB. It helped me overcome challenges in vegetable production.
I was able to hire casual labour. I bought a motorcycle, some livestock, built a house for rent and paid school fees for my children and relatives in good schools.
'Vegetables are high income crops and take a short time to harvest compared to other crops, like rice. Since most farmers follow the normal rainy season, I thought of beginning off-season vegetable production to target better prices due to low supplies, coupled with high demand. With the motivation, skills and knowledge I received through training and advice from the Hub, I decided to trial growing tomatoes out of season. 
Blessings & Increase
'In December 2020, I planted 15gms of tomatoes and fairly followed the guidelines. I received 3.5M UGX (£760) from a quarter of an acre within three months. My outgoings were only 300,000 UGX (£65). I also planted 20gms of cabbages on the same size of land during the same period. I received 1.2M UGX (£260) and incurred costs of only 190,000 UGX (£42). I did most of the work myself, but at some point, I was able to hire casual labour. I bought a motorcycle, some livestock, built a house for rent and paid school fees for my children and relatives in good schools.
'My journey with The Hub has greatly improved my life and social wellbeing. The knowledge that I have received transformed me from small scale farming to emerging commercial farming. I encourage fellow farmers to join vegetable farming because it takes a short period to mature and give better returns compared to field crops like rice, soya and maize. My advice to other farmers is to visit The Hub for quality inputs, information, advice and knowledge. Join farming groups, specialise in a particular commodity and work hard. I plan to continue planting vegetables, plus trees for timber and fruit and intend to buy a water pump to increase vegetable production during the dry season.'
What a positive picture of hope for the future in a country where unemployment is one of the highest and agriculture and industry are so essential. Visionaries like the Joosses have unleashed a growing agricultural footprint which is taking farmers from poverty to stability and MAF is happy to serve as part of their story.
Story by Jill Vine