Image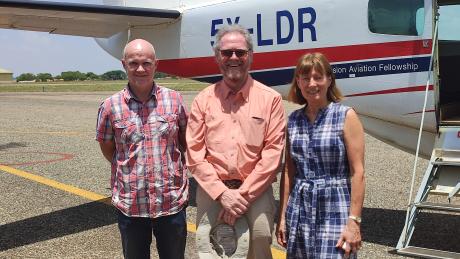 Photo: Jill Vine
Jill Vine catches up with Ruth and Nick Davis and the work Heb Ffin is doing with coffee producers in Mount Elgon 
Heb Ffin (Welsh for 'Without Frontier') partner with Zukuka Bora, a coffee project in Mount Elgon. Ruth and Nick Davis make their time available for projects that impact the most vulnerable people by empowerment and training. Heb Ffin has devised a way to hold hands with an ethical coffee project headed up by Dave Bishop in Mount Elgon called Zukuka Bora. They also support a coffee roasting company called Manumit which buys beans from this project and roasts them in Wales where survivors of trafficking are employed. The roasted beans are sold online and to churches and coffee shops with the profits being donated to charities that help fight slavery, including in Uganda. This threefold strategy provides fair incomes for both the farmers in Uganda and the women back in Wales who are rebuilding their lives, as well as allowing consumers to drink refined, specialty coffees knowing they're also fighting slavery. 
Award winning coffee
Dave mentioned some of the surprising outcomes Zukuka Bora encountered at the beginning of Covid, 'We had challenges right in the beginning getting coffee out of the country, but since then the project has more than doubled in terms of volume, and the number of farmers, workers, and customers have also increased. We entered the 'Best of the Pearl' Uganda competition in 2021 and Zukuka Bora was number 1 at the auction out of the best 10!'
Uniquely, Zukuka Bora offers a 'hungry season bonus' to their farmers after the coffee is processed and sold to keep the farmers' families going throughout the year. At the airfield in Soroti, Dave mentioned just before we said goodbye, 'These bonuses throughout Covid were hugely appreciated.' He went onto share a highlight he had experienced, 'I went to see a farmer who had only brought in a tiny amount of beans. We tracked him down all the way into his village to give him what he was owed for his bonus. He was so taken aback by the effort made to give him this small bonus, he remarked, 'I'm not a Christian but when I see how far you've come to find me, I can understand what it means to be a Christian.'' Every soul in this farming community counts, much like the 100th sheep that Jesus talked about being worth finding.
I'm not a Christian but when I see how far you've come to find me, I can understand what it means to be a Christian.
While on their return flight to Kajjansi, Ruth and Nick explained more about their two full weeks on the ground near Soroti and Mount Elgon.  'We visited two (TEN) Transformation Enterprise Network-supported training centres in Kumi and Soroti. One of the projects has launched four businesses that have spun off from the training provided by the centre. We were also able to follow-up on a donation by Manumit to Suubi (meaning 'Hope') House in Mbale where the project offers two years of vocational training to 20 street boys. We visited new coffee drying facilities connected with Zukuka Bora and witnessed 100 women who would be normally out of work, finishing off the sorting and packing of the coffee in Mbale.' When the Davis' last visited in 2020, Zukuka Bora exported 25 tonnes but just two years later, even with Covid19 obstacles, 60 tonnes have been exported and the facilities have been substantially improved.
Ruth and Nick readily shared the invaluable time saved by being able to fly from Soroti back to Kampala, 'Flying with MAF made it possible for us to see all of the projects in Mt Elgon and near Soroti because we didn't have to waste a day travelling but returned back for our international flight in just 15 days.' 
As always, it's a delight to be able to report the expansion of positive and ethical projects like Zukuka Bora, TEN and Heb Ffin which are underpinned with a Christian ethos. They are strategically taking vulnerable communities from strength to strength as they advocate for the mercy that both MAF and their projects believe in.
Story by Jill Vine