Image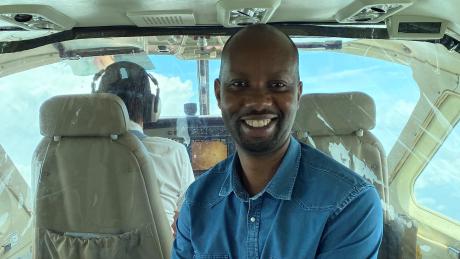 Photo: Jill Vine
Kenneth frequently flies with MAF after he and his wife sold all they had to help people in DR Congo
Story and photo Jill Vine
Kenneth was a very successful Ugandan businessman until a visit to East Democratic Republic of Congo (EDRC) changed his life forever. He had been working for Compassion International for 10 years but after his visit to the EDRC Kenneth explained, 'My heart was moved when I saw the situation there. My wife and I decided to sell up everything we owned to help support the Congolese who had such huge insurmountable struggles.' In 2011 they established Eden Mission in Bunia, mainly to support families in Congo and Uganda. 
Kenneth was confident that God would make a way where there was no way. 'Everyone who knew me thought I was completely mad to let go of my executive role in Uganda to go and live in Congo. We didn't know how far our funds would go but I knew that whenever it dried up, we would go back to the drawing board and continue raising funds. We offer economic empowerment using the resources the locals have, plus we offer spiritual development and discipleship training. We also have a maternal health program, and we give marriage counselling and parental training.' Eden Mission has helped around 4200 people to date. 
We could have never achieved this without MAF
Kenneth continues. 'We could have never achieved this without MAF. We used to go by road. In 2014, I was driving with my wife and two girls (aged three and two) when we encountered rebels at a roadblock. They pulled me out of the car and dragged me into the bush. My prayer was that they would kill me and not touch my family. They demanded I give them everything I had, including my phone and money, but then also asked for me to leave my wife with them. I offered them everything but pleaded and explained that I was doing mission work and to please leave my wife alone.'
A large buffalo suddenly appeared and chased the armed rebel  
'As we were talking, a large buffalo suddenly appeared and we were all scattered. It chased the rebel who had a gun. I knew it was God protecting us. I ran towards my car, terrified the buffalo was also going to kill me and drove off like a madman. I hit into the rebel barricades across the road and kept going. After 20-30kms I reached a small town and found my car was completely wrecked and one of my daughters was injured, but we had escaped with our lives. I had preached about 'God interventions' but had never experienced something like this first-hand where God had definitely intervened. I would probably have been dead and who knows what would have happened to my wife and daughters.'
If it wasn't for MAF we would have stopped after the rebel incident
'I retold the story to friends and one of them then told me about MAF and how they help fly Christian organisations to support their ministries.' It was then that Kenneth got in touch with MAF and has now flown with us 36 times. But his story doesn't finish there, and he continues:
'My story was also shared via a friend to another friend, who told another person in the USA [a Texan]. This Texan then asked to visit our project and flew over from the USA, taking a flight with MAF to see first-hand the projects in EDRC. At this point we had run out of finances, but he helped continue raising funds for Eden Mission and we now have an office also based in Dallas, Texas. I couldn't believe how quickly our ministry had grown.' 
We've seen God use MAF in ways I can't explain 
'If it wasn't for MAF we would have stopped after the rebel incident. We've seen God use MAF in ways I can't explain. They've flown in so many of our US and Canadian partners. We've been able to reach the whole of Orientale Province in EDRC (three times the size of Uganda) because of MAF. From Bunia we can fly to different locations like Aru, Mungwalu, Aliwala, Mambasa and Komanda which would take 2-3 days to reach by road. It's also very risky to reach these locations because of rebel activity that's still ongoing between these remote areas.'
Kenneth's words flowed easily as he recounted other stories of transformation. 'I have seen many lives transformed, but one that stands out is about a witchdoctor who used to sell poison for people to go and use to kill people.'
Instead of killing people he is now bringing people to Christ.
'We met in 2016 and were telling him about what we were doing and invited him to our training centre. We talked about marriage, good health, personal finance, business development and about Jesus. The witchdoctor was listening and so we offered to pray for him, but at first, he was reluctant. He started receiving deliverance and after 30 minutes God had delivered Him completely and he accepted Jesus as Lord of his life. We then went to his home, but his wife reminded him that his gods had warned him that if he had anyone enter their home with a bible he would die. We assured them that we had come to just pray and so they agreed for us to enter as long as we left the bible outside. The wife was then delivered and also came to Christ. We then heard their story how they had poisoned and killed over 68 people, and hundreds more from selling their poison to others in the community.'
'Two weeks ago, I met with this same man who I've been in touch with since his conversion and found out that he had planted two other churches. He also pastors a congregation of 300 people and runs a pastoral training program. We wouldn't have met this witchdoctor without MAF flying us to where he lives. Instead of killing people he is now bringing people to Christ.'